2001 Suzuki Bandit 1200 S
Introduction
---
We purchased our Suzuki 2001 Bandit 1200 S from Chuck Gross at Schaumburg Honda/Suzuki in 2002 as a non-current-year-but-new-model. The bike is great. Lots of low end grunt and I have not even got close to the maximum top end. The 2001 Bandit includes a number of key features not present in the pre-2001 models. Years 2001 through 2003 are virtually identical, expect for color choices. The 2004 model includes a couple of new features, including a polished stainless steel muffler--previous models had a brushed aluminum muffler.
Rider Reviews
---
This is the review I posted at EOPINIONS....
Pros

Great looks, power, brakes, low vibration, classic engine, for a rock-bottom price.

Cons

Lots of air deflected over small fairing.

Full Review

We purchased our 2001 Bandit 1200 S early in the 2002 season from Schaumburg Honda-Suzuki. The Bandit has great low-mid range torque and enough HP on the high end to thrill just about anyone. Why this bike gets so little press here in the U.S. is remarkable.

If you compare the motor and chassis specs with other sport and naked bikes, it is right up there with bikes costing thousands more.

On the upside....

The bike accelerates like a bat out of ...., handles great, and the brakes are fantastic. The engine being oil/air cooled is a bit simpler to maintain that liquid cooled bikes, and the engine has GSXR heritage written all over it--in other words, it should last forever. The riding position is sporty but comfortable (I'm 6'2" - 6'3") and the wide and high handlebars give my near 50 year-old back a break.

For my riding, the suspension (forks and rear shock) are dialed in perfectly. The wife enjoys riding on the back, but for me, it is a bit too tight for the both of us. She seems to slide forward, pushing me into the gas tank and placing even more weight on the hands. I have not felt the need to adjust the rear shock when riding two-up.

The tires are awesome, correctly sized and grip like teeth. I have not come close to reaching the bikes cornering limits.

The bike looks great--the pipes, body work, color, fine-finned engine, layout are all very attractive. The header pipes started turning a golden color after about 500 miles, something that is normal. Some observers like the golden tone, others don't. I would prefer them to remain in their original chrome color, but I accept the "changing" color without a gripe.

The fuel mileage is excellent, especially for powerful bike. I run premium, as suggested by the dealer.

The seat comes off very easily using the key and the helmet lock mechanism. This allows access to some underseat storage, the handbook, and the battery.

I know this is going to sound downright stupid of me, but hey, compare the Cycle World specs for the 2001 Bandit 1200S with their specs for the new 2004 CBR 1000RR. Sure the CBR is much tricker and has a much higher top speed, but really, how many among us ride faster than the Bandit upper limit of 145 MPH? But look at the roll-on specs, the 0-60,0-70, and 0-90 specs, or the braking specs, the Bandit is right there or better than the CBR! No doubt the CBR out handles the Bandit on the track, but where most of us ride.....Anyway, I feel pretty good that the Bandit cost me half the price of a CBR, and competes very nicely in the real-world performance categories.

On the downside....

The small fairing windshield is just large enough to direct a ton of air at my face/helmet, and at illegal speeds, it rattles my shield and even tore my shirt open one time. I have learned to lock the shield and wear a jacket. Suzuki sells an accessory fairing that is 2" higher for about $60. My son and daughter-in law purchased a Zero Gravity sport touring shield for the bandit. Looks great and helps the buffeting.

My only other complaint is the sound--way to quiet! Nothing that a new exhaust cannister won't fix. Still, you think they could sell the bike with a little more sound...

The Bottom Line

Perhaps the best deal in sport motorcycling: fun, fast, gobs of torque and HP, relatively light, comfortable and stable to ride, great brakes, good suspension!
The following is a review from Greg Miller
Nice review. I also own a 2001 B1200S, now with 12k miles on it. Couple of thoughts.

The stock exhaust is very inefficient. I went to a Yoshimura RS3. It has a nice rumble without being too loud, is much lighter and the bike runs much stronger. And the install is better than OEM. Lots of people also like the Holeshot Touring muffler from Dale Walker.

These bikes have a bad habit of building up carbon in the combustion chamber, and then running rough. Every 1,000 miles or so you need to run through a bottle of fuel system cleaner. Any of the off the shelf products seem to work fine. If you do not do this, after 10k miles or so, you can burn a valve. Just one of those Bandit things, owners know about. Cheap, easy and if you do it, you will never have a problem.

The stock seat is not bad, but I like the Corbin gunfighter. You can slide back and lock into the step. If your riding is not to sporty, the stock seat is probably fine.

The stock fairing does pass a fair amount of wind, but on a long trip there is less weight on your wrists with some of that air on your chest. I have done 2,000 mile weeks with the bike up to Canada and back, and have learned to like the fairing.

I am using Spectro Golden Synthetic, and it works very nicely. Improves shifting and no clutch problems. These bikes are fairly bullet proof, and I expect to get big miles out of this motor.

Two up, the bike does not impress me and it gets worse as the shock ages. I have a backrest on the corbin for my wife, but changing the shock is such a pain, she rarely comes on the Bandit.

As to performance, their is nothing else like it for the ability to pull into a corner, find you are in the wrong gear and to just motor through. It really is a great package for the street. I have had lots of bikes, and paid a lot more than you to get one of the first new style 1200S bikes. Very happy with it, and intend to keep it indefinitely.

Sincerely,

Greg Miller
The following review, tips, and thoughts are from ____________ frankly, I cannot remember:
The cold-blooded nature of the Bandit is a result of an attempt to lean the mixture out to meet EPA standards. An inexpensive stage 1 jet kit will fix this. Dale Walker's Holeshot kits are cheap and easy to install. My mpg went UP after installation.

Many windscreens are available-I like my Zero Gravity tinted ST...much taller and wider than stock. Looks great to boot.

My opinion is that Premium fuel is a total waste of money on this bike! The owners manual specifies 87 octane, who are we to argue with that? Honestly, this bike has a low state of tune and runs great on the cheapest gas available. I have a Holeshot stg 1 jet kit and 5 deg advancer and my bike runs fine on 87 octane except when it's very hot (near 100 deg).

I bought my 01 Bandit 1200s from Competition Accessories in Columbus, Ohio in May 2001. I shopped via the internet, exchanged a couple of emails with a salesman, sent the check and 3 days later the bike was delivered (Friday before Memorial Day 2001). MSRP was around 7400, I got mine for 6995 out the door including a kick butt shipping crate. The bike arrived ready to ride with two gallons of fuel and the setup checklist taped to the tank. The crate was 300 bucks, so I got the bike for 6695.

What a great bike for this price! I shopped for a Triumph Sprint ST (too expensive), Honda VFR (VTEC is not DIY friendly), Yamaha FZ1 (soft saddlebags are a difficult fit, and Suz. SV 650 (physically too small). I've averaged 15k miles per year on my bike. Done several 1000+ mile days. Wear the tires to the edges. Drag raced it over 75 runs down the 1/8th. Commute on it. No breakdowns, nothing seems close to wearing out. I do ALL maintenance myself. Valve cover comes off without removing the fairing (contrary to the shop manual), several excellent support groups, easy to upgrade for more power.

My tires (michelin Pilot Roads) get 10k miles per set. Chains go around 17k miles. OEM front brake pads went 27k miles. Replaced with EBC HH pads, upgraded to Spiegler SS brake lines. Awesome braking! Rear brake pads are still original at 43k miles, but are due to be changed.

Valve inspections are recommended for every 7500 miles- this is a waste of time as I rarely have found a valve truly out of spec. I got at least 10k between valve inspections. Use Amsoil sythetic and change it every 7500 miles.

Upgrades: Zero Gravity ST tinted windscreen, Spiegler f/r brake lines, EBC HH front pads, Throttle Rocker, Sigma BC1400 trip computer, Loobman chain oiler, DID X ring chain, Roadgear tank and saddlebags, Givi 460L trunk.

Paint, fit, and finish are all first class. I get 46 mpg on the highway and 42 riding it like I stole it. If you are tight for money,you owe the Bandit 1200 a look. I have not upgraded the suspension and have no problems keeping up with full-on sportbikes in the curves. Run low 7's @ 98mph in the 1/8th with only a stage 1 jet kit and Micron slip on. I plan to replace the rear shock this year (worn out) and revalve the front forks (Traxxion Dynamics). Awesome bike for an awesome price.

Negatives

"Only" 101 hp stock. Will have 100k miles when last payment due.

The Bottom Line

Awesome bike,who really needs more than 100hp? All day comfort. East to upgrade.


Reader Comments About Wind Blast & Comfort Issues
---
My son and daughter-in-law recently (05/2005) purchased the Zero Gravity Sport Touring wind screen for our Bandit 1200S. It looks and works great. I received the following from Rich Ruess...
Rich Ruess reported,
I don't know if you've checked out the Laminar LIP that was mentioned on the Maximum Suzuki forum, but it REALLY works well. The LIP pushed the wind so high, I can't feel anything on my helmet, and I'm 6'2". I can only feel the wind on my upper shoulders.

Hope the Zero Gravity works out for you. Because the effect varies by bike and rider, it's really a crap shoot buying a windshield. The lip was an inexpensive alternative that did everything it claimed. The other thing I did was to address the vibration issue. I bought the Maniac Salamander heavy bar end weights and they didn't seem to work out as well as the lip. So, I added a load of BBs to the handelbars and now the vibration issue is non-existent.
I asked Laminar whether they have a LIP for the Zero Gravity Sport Touring windshield. Here is their answer:
Thank you for your email. Our Small (10") Universal Cruiser LIP will fit the Zero Gravity Tour Shield for the 1200S. It is listed only in clear, if you need smoked please call, toll free 866-540-5679.

Thanks Again,

Andy
Specifications
---
In case you're interested, here are a few spec sheets for the 2001 Bandit 1200S (click on each stat sheet to Enlarge and print):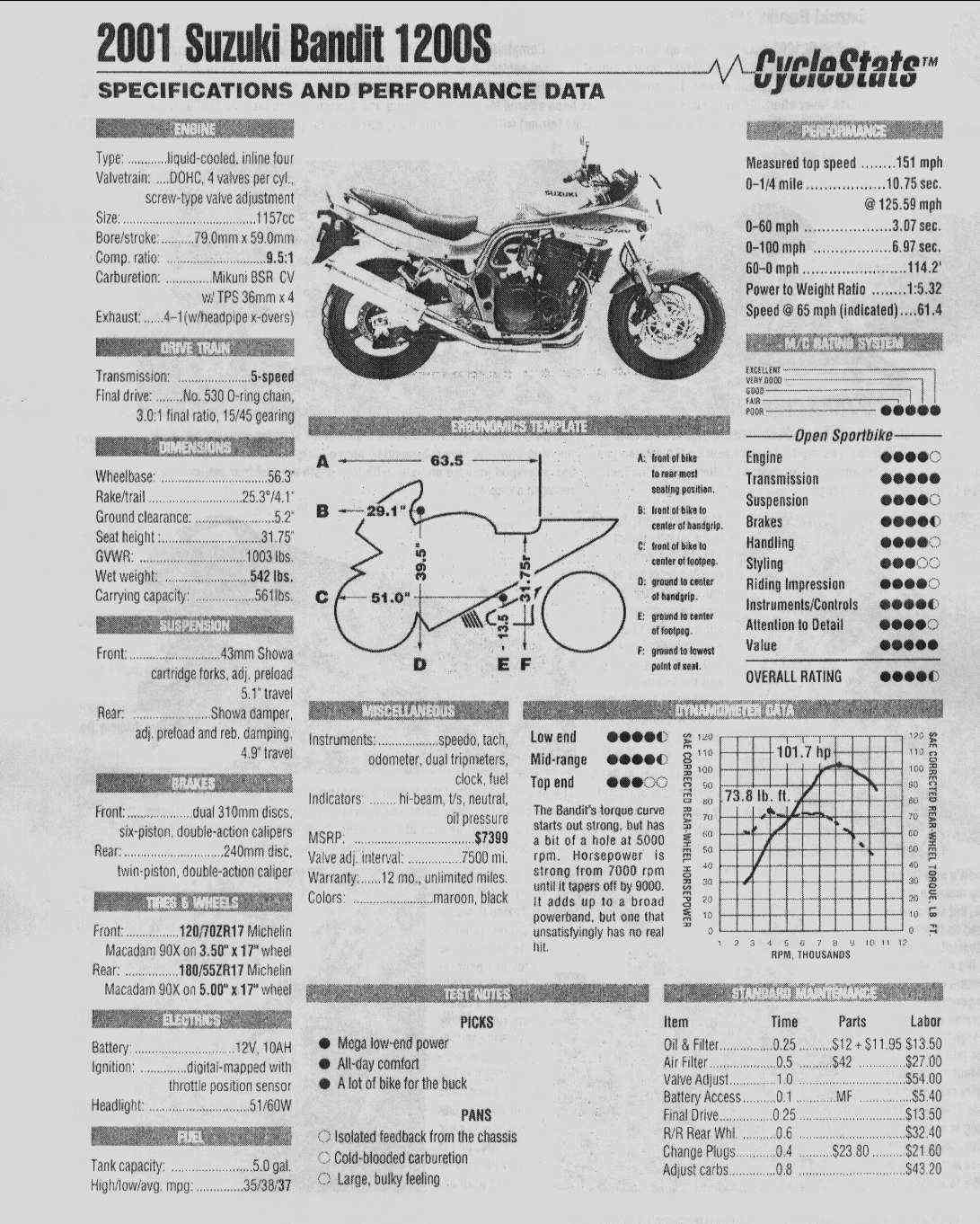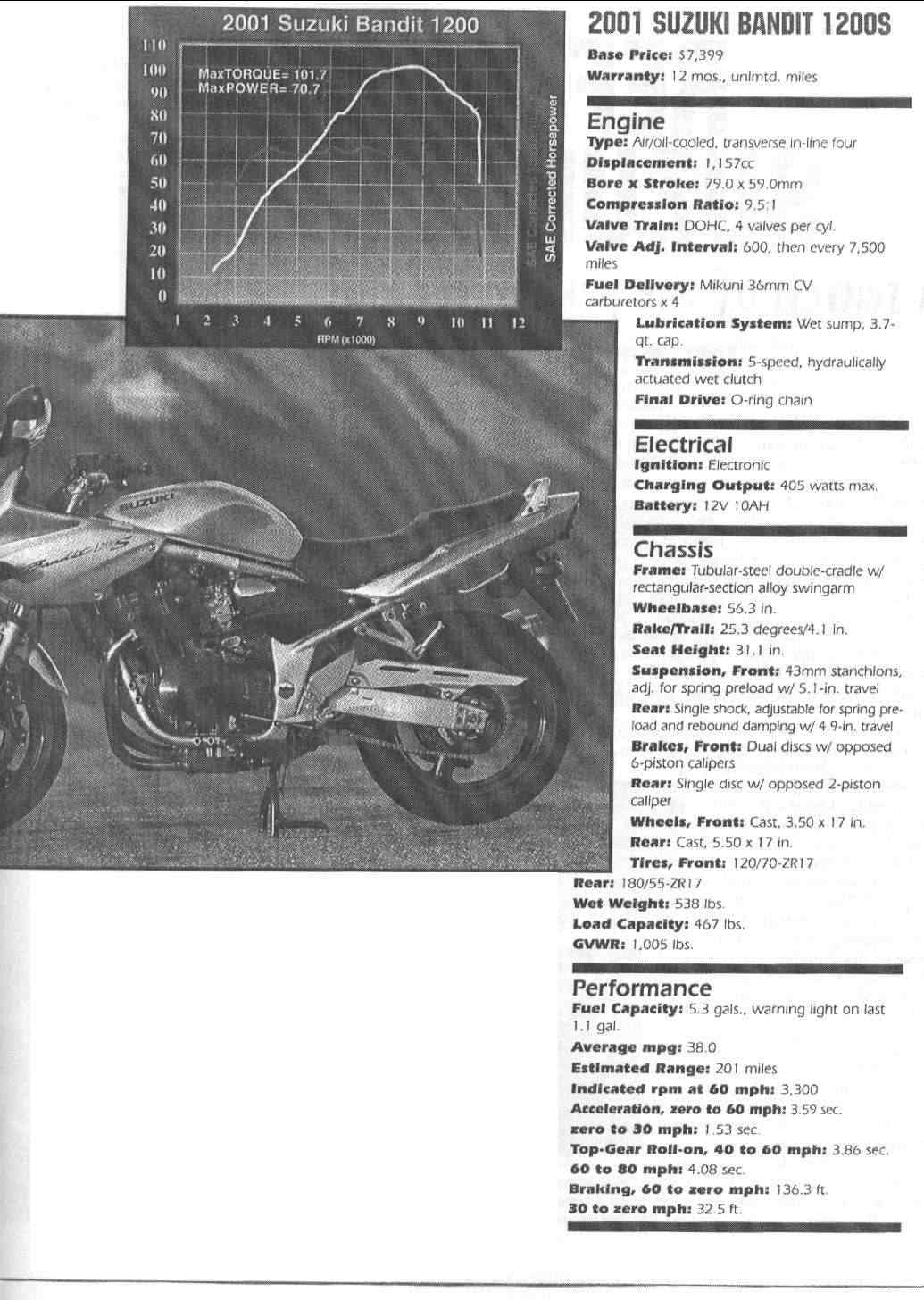 Links
---
Bandit Alley
BanditAlley is an internet community for riders of Suzuki 250, 400, 600, 750, and 1200 'Bandit' motorcycles. Performance, value, comfort, and versatility are all features enjoyed by the worldwide riders of the 'Bandit' family of 'sport-standard' motorcycles!

Fast Larry's Bandit Site
Can you say WOW! Great bike. Tons of information. Check out FAQs.

Dale Walker's Holeshot Performance
Another great site. Lots of performance parts and info for the Bandit.

Bill Blade's Bandit Site
Tons of links and good info.

World Wide Bandit Owners
Tons of links and good info.

Andre Eisenbach's Site
Tons of links and good info.

Laminar LIP
Maker of the Laminar LIP, a highly regarded wind deflector for windscreens and windshields.

Zero Gravity Wind Screens
Maker of some of the coolest windscreens on the planet.





A Few Pictures
---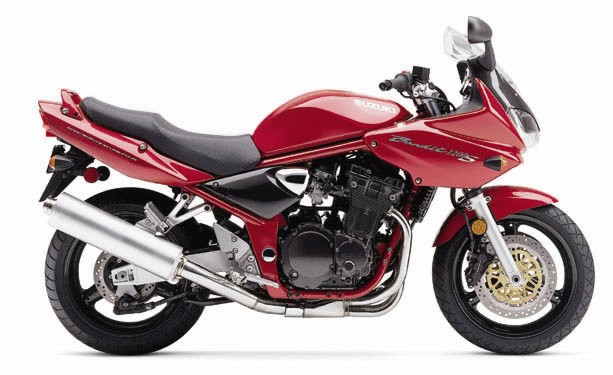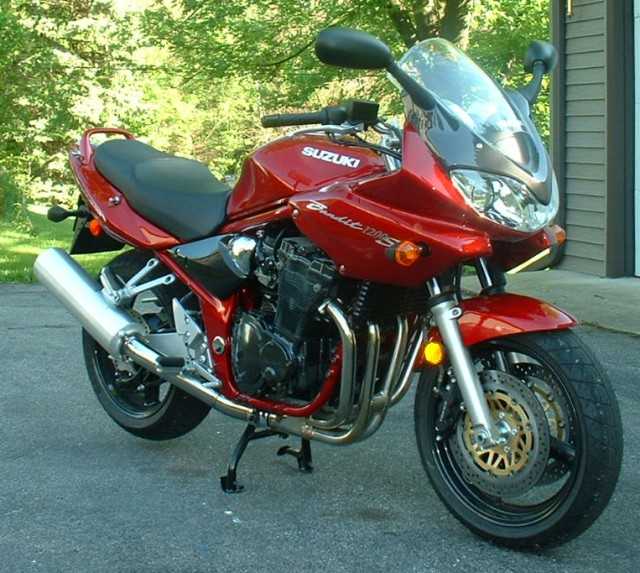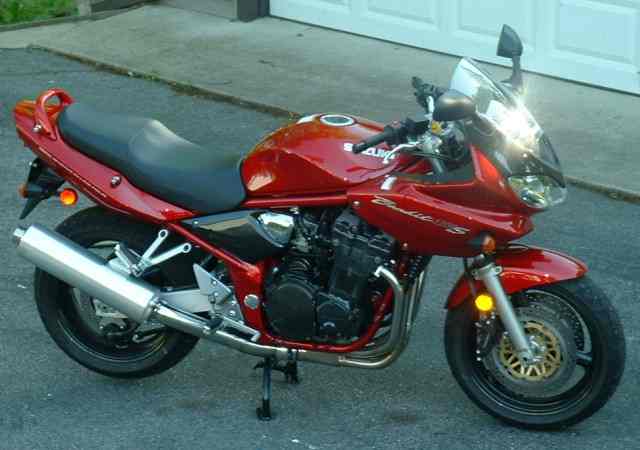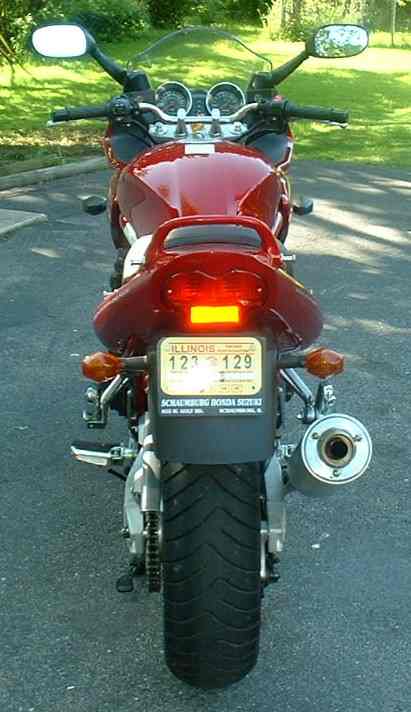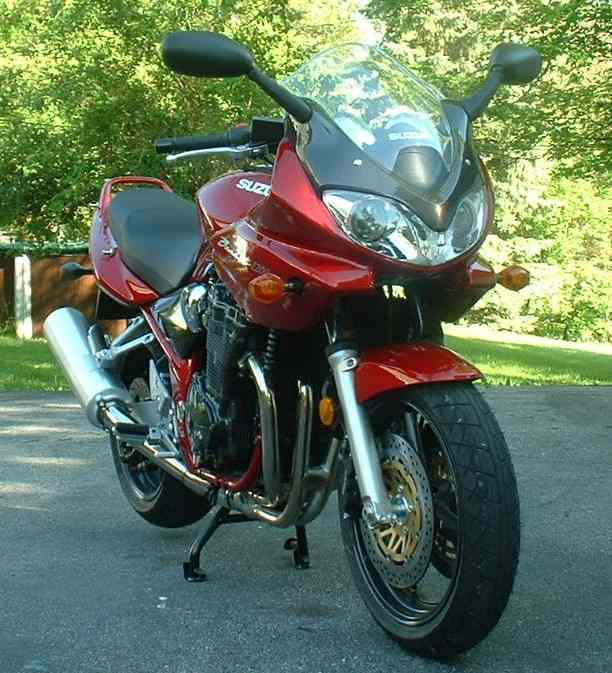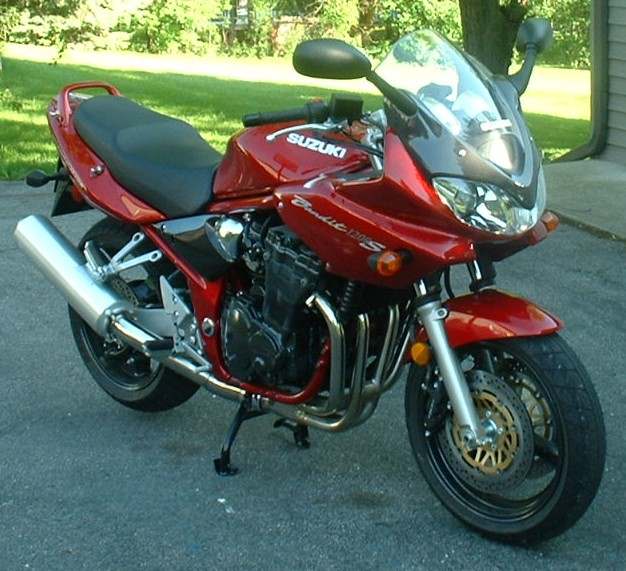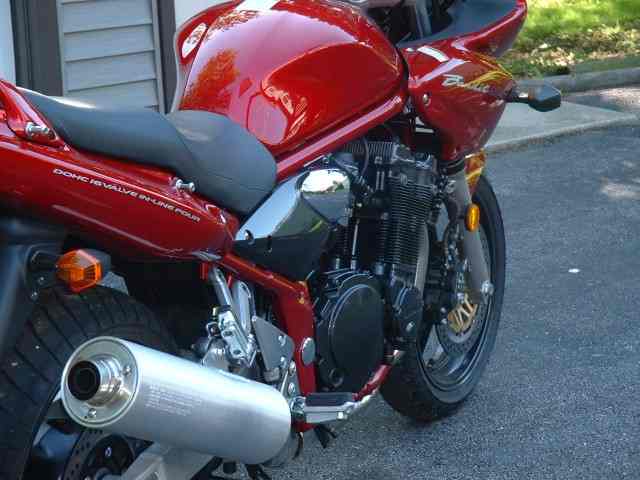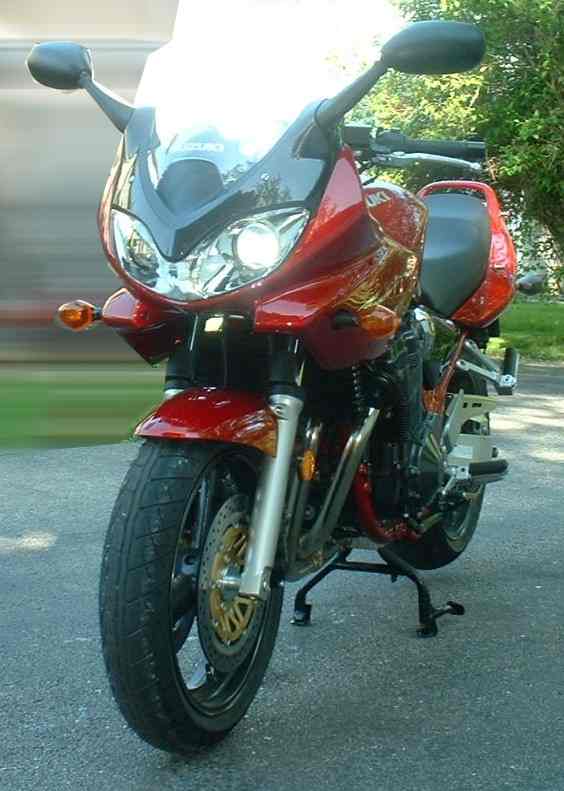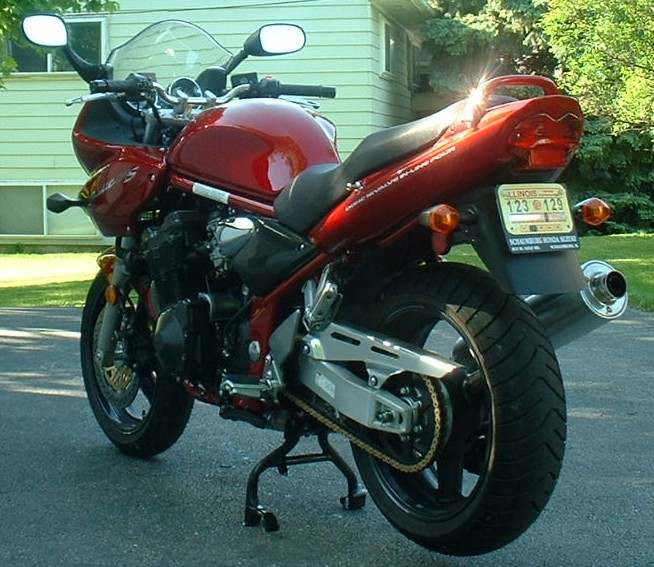 E-Mail
For comments, suggestions, or whatever E-mail us!