---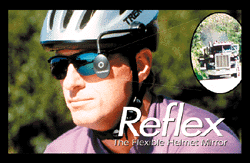 I am accustomed to riding with a mirror installed on the brake hoods. I ride with my hands on the hoods about 70% of the time. The mirror is great, but my left hand gets sore due to the extra bulk of the mirror bracket and strap around the brake hood. Consequently I decided to try the Reflex Helmet mirror from CycleAware.
---
There isn't much that I really like about the Reflex helmet mirror, but here is what I do like:
It's making me accustomed to riding without a mirror.
Replaced the brake hood-mounted mirror.
Easy to install.
Rotates easily, up and out of the way. Unfortunately that's exactly where it stays about 90% of the time.
Does not shake out of adjustment over rough roads.
General construction is excellent for something so cheap.
Price was right ($9.95).
---
We're taught that if we have nothing nice to say, say nothing at all. Whoops!
Blocks my vision, creating a fairly serious blind spot.
The mirror falls off its mount with the lightest touch. Several times a week the mirror falls off forcing me to turnaround and pick it up. I ride on several busy streets so this is not a pleasant occurrence. It also knocks my Average MPH to heck.
Almost impossible to adjust it to view directly behind me. I can see my shoulder, the oncoming lane, the sky, anything but want I want to see. Now if I tilt my head just right and angle my eyes up and to the left, it works. But I don't like taking my eyes off of a busy road.
Hard for me to focus on the small mirror.
The small mirror is…..too small.
---
I am glad I tried it but the last few rides I have not used it. If it cost more that $10 I would have returned it. I just cannot get used to it blocking my view, and the small mirror is very difficult to adjust to see anything more than my shoulder. Plus, I have to take my eyes off of the road to use it, which is not the safest thing to do on a busy road--the reason I feel I need a mirror in the first place. On a scale of 5 chainrings, the Reflex Helmet Mirror gets 1.
---
If you have any comments, suggestions, drop us a line!