---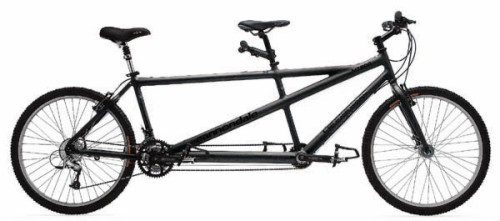 Welcome to our review of the Cannondale MT800 Tandem! This is one of the best purchases we have ever made. The bike handles 10 times better than I could imagined and the frame provides an incredible feel of the road, even with ATB tires.
A funny story: The first evening out on the bike we rode around for 15 to 20 minutes without stopping. I told Luzimar we should try stopping and starting. As we came to our first stop I found I could not get my feet released from the Shimano clipless pedals! Oh My .........! Luzimar bailed only to find out the seat caught her in the back (the tandem seat is a bit higher than she's used to). So with both feet dragging on the ground, ala Fred Flintstone, Luzimar brought us to a wobbly but sure stop. I was able to undo my shoes. It took the better part of an hour to extricate my shoes. I learned two important things from this experience:
Never use new clipless pedals without testing/adjusting them first.
Wellgo SPD cleats are not the same as Shimano SPD cleats. (What good is a standard like SPD, if it is not standard?)
---
We can finally ride TOGETHER!
We can finally ride TOGETHER!
We can finally ride TOGETHER!
Luzimar gets my way. I get my way. Everybody gets their way.
It looks great.
It rides great.
It's fast, especially when the captain and stoker are BOTH peddling!
It has excellent components, through out!
We thought being forced to peddle in sync would be a pain. No problem. We have synched up without a second thought. Of course I have almost launched Luzimar into outer space a few times. Luckily for me I out weigh Luzimar by about 100 pounds!
A great dealer. BikeSource could have passed on the first Tandem that arrived, bent and not quite right. Nope, they ordered another one and had it setup absolutely perfect. Plus, they offer several years of adjustments, something I believe we will need with a tandem.
---
The chain trys to climb off of the highest (smallest) three cogs under heavy cranking on the largest chainring. I'm sure that dealer will fix this when we take it in for its first checkup.
My hands and wrists get very sore after 1/2 hour. Not sure why. The basic geometry doesn't seem to much different than my Giant ATB. Unfortunately, the soreness/pain really detracts from an otherwise perfect (and I do mean perfect) ride.
I am coveting (no lusting after) for a Cannondale road bike.
---
Click on the thumbnails to see the full sized image!
---
Here's some technical information, gleaned from here and there:
To be supplied
---
More info to come but suffice it to say this is one heck of a bike for $1900.00.
---
The www.cyclesport.com web site includes a great list of resources regarding tandem bikes. I recommend that you check it out.
---
If you have any comments, suggestions, drop us a line!